Welcome to Meat Cove Campground - Rugged Camping At It's Best !!
Campsites: $35/Night (First come first serve)
Cabins: $80/Night (Reservations available June 1st)
If you are looking for a bit of rugged outdoor camping at the Northern tip of Cape Breton then come to
Meat Cove Campground
located about a half hour or so just north from Ingonish.
---
TRIP ADVISOR CERTIFICATE OF EXCELLENCE !!
We are proud to accept the TripAdvisor Certificate of Excellence again this year for 2018!
Thank you sincerely from the Meat Cove Campground Management and Staff!
---
CHOWDER HUT RESTAURANT - Seafood, Burgers, Licensed Deck!
Drop in for a bowl of seafood chowder, mussels, lobster, or one of the many other tasty dishes served up hot at our very own "
Chowder Hut Restaurant
", then wash is down with a cold beer on our licensed deck!
---
THINGS TO DO AT MEAT COVE CAMPGROUND
Check out the many hiking trails nearby, swim at the popular beach, strike up an evening bonfire, or go kayaking and whale watching anytime during the camping season!!
---
FREE SHOWERS & WIFI !!
Take advantage of the free showers and wifi when you bring your friends and family to the Meat Cove Campground, Cape Breton's most rugged campground experience in Atlantic Canada!
MEAT COVE CAMPGROUND HIKING TRAILS (Click To Download PDF Map)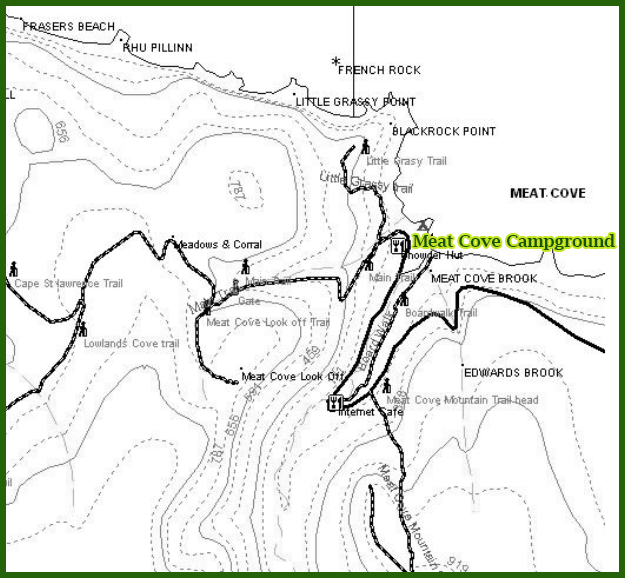 NOVA SCOTIA WEB CAMS
We tried chowder in just about every village we stopped in and Meat Cove Chowder Hut was our favorite of them all!

Geri F.
Awesome place, went there on our bikes, alittle rough, but it was worth it. The view is breath taking, people that work there are awesome….We will be back in 2015

Tammy C.
Gracious hosts. Spectacular views and vistas. Calm and peaceful. Simply wonderful. I highly recommend spending time here.

Gregory W.